Le 9 février 2017, 08:10 dans Humeurs • 0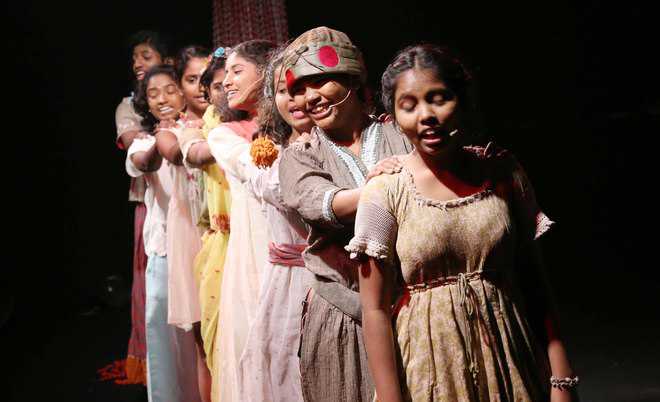 (Photo:cheap prom dresses 2017)
Fashion is not something that exists in dresses only. Fashion is in the sky, in the street; fashion has to do with ideas, the way we live, what is happening, said Coco Chanel, and the significant statement by the woman, who founded the brand that's credited for freeing women from corseted silhouette post World War I era, came alive at Lakmé Fashion Week Summer/Resort 2017.
The show was as much about style, as about raising issues of the times, the sartorial choices that went beyond just the 'looks' and making a statement - how the world belongs to every single one of us. Something like demonetisation made it to the ramp too! Althea launched a brand new collection, which has been created using the print of the old 500 and 1000 rupee notes, combined with the fresh colours of the newly introduced currency. Gender issues, body shaming and making society inclusive, regardless of class or sex, got due attention through garments, its makers and models!
Campaign trail
The campaign #NotWhatIWear highlighted the social message on the fashion runway in the light of many cases of discrimination against women for their sartorial choices. Ajio.com's campaign is encouraging women to make their own choices, sartorial and otherwise, and not be judged for it. The show opened with women sporting cardboard boxes, which had on them statements such as 'I'm wearing skinny jeans. Should I be banned from college?' or 'They told me not to wear this to work.'
Tag team
If last season Lakmé Fashion Week Winter/Festive 2016 created fashion uproar with the first "Plus Size" show, for Lakmé Fashion Week Summer/Resort 2017 '#Tag Free' show was the talk of the event when 23 assorted celebrities rocked the ramp in creations by India's top seven designers. The show aimed to depict diversity in terms of beauty beyond appearance and ensured that the stereotype of restricting one's self in a certain shape and size was totally broken.
The line-up of women proved they were the best in their chosen fields. The list included hair/makeup artist Laila Dalal, glamorous transgender model Anjali Lama, top fashion blogger Shereen Sikka, singer/songwriter Kavya Trehan, entrepreneur Cheruba Nelson, photographer Anushka Menon and personal trainer Nilparna Sen, among others.
Kranti rocks
Girls from Mumbai's red light areas, as the agents of social change, made a strong statement at the Lakmé Fashion Week in collaboration with Kranti – an NGO that empowers girls from Mumbai's red light areas. Delhi-based designer Mandeep Nagi showcased her Spring/Summer 2017 collection through the performance by Kranti girls.
Stitch in time
"Designers nowadays use their platform to discuss or raise awareness about issues like the dying of handicrafts or the need to use organic fabrics and because of their reach this can make a great difference," shared Ritu Kumar, who feels that designers have helped a lot in saving the dying crafts. "For instance, the Benaras revival that many designers, including myself, have undertaken has done a lot to preserve this craft," she said.
The 73-year-old showcased her Maharaja Pop collection. And one saw many a new and established names paying an ode to Indian crafts and doing their bit to sustain them. Exploring the use of indigenous material, handloom fabrics and crafts by local artisans, Nainani brought in indigo dyeing with resist techniques; Gaurang Shah gave luxurious twist to the dying art of weaving and popularised the use of Khadi for his latest collection of 40 garments titled Muslin.
Traditional touch
The ramp came alive with amazing crafts and textiles when IMG Reliance presented the Artisans of Kutch show to an excited audience of traditional heritage lovers. Designers Shrujan, Somaiya Kala Vidya, Chaman Siju and Sufiyan with Madam Hall showcased a rich collection of Indo-western ensembles with intricate embroidery and prints.Read more at:high low prom dresses uk